广州港计划是"港口与影像:行动中的中国港城影像计划"中的一部分,由陈文俊的《漫游两千年后的广州港》图片作品和江演媚的《三个在广州做生意的外国人》视频作品组成,是关于广州古今的港口变迁和商贸状态。这是由中国港口博物馆委派的项目。
Guangzhou Port Project is part of the project the Port and the Image: Documenting China's Harbor Cities. It consists of two parts: photography work Wandering Through Guangzhou After 2000 Years by Wenjun Chen, and video work Three Foreigners Doing Business In Guangzhou by Yanmei Jiang. It is commissioned by the Chia Port Museum.
---
《漫游两千年后的广州港》 Wandering Through Guangzhou After 2000 Years
历史中的广州港是中国古代海上丝绸之路的起点之一,唐宋时期成为中国第一大港,明清时期成为中国唯一的对外贸易大港。当时全国各地的丝绸、陶瓷、茶叶、工艺品齐聚广东,远销欧洲、美洲、日本和朝鲜半岛、东南亚、南亚、西亚和澳洲。其中受海外市场青睐的外销瓷来自广东、福建、浙江和江西等窑口,源源不断地经海路销往全球各地,"海上丝绸之路"又被誉为"海上陶瓷之路"。当中的广彩(广州织金彩瓷的简称)是广州工匠将景德镇的白瓷按照西方人的审美习惯加彩烘烧而成,既有中国传统彩绘艺术风格,又吸收了欧美的艺术精华;既保存了中国传统纹饰,又创造性地采用了西方的历史故事、宗教题材、神话传说和风俗人情为图案加以装饰,是中西文化交流的结晶。
Guangzhou was one of the starting points for China's ancient maritime silk road. In the Tang and Song dynasties, Guangzhou was China's largest port, and in the Ming and Qing it was China's only port open to foreign trade. The worlds silk, ceramics, tea, and handicrafts all passed through Guangzhou on their way to Europe, America, Japan, Korea, Southeast Asia, South Asia, Western Asia or Australia. The overseas market was particularly partial to export porcelain from the kilns in Guangdong, Fujian, Zhejiang, and Jiangxi, and a steady flow of ceramics went out across the "maritime silk road," also known as the "maritime ceramic road," to the rest of the world. Among this export porcelain was Guangdong's "Canton ceramics," which were white porcelain works fired in Jingdezhen that were then taken to Guangzhou and painted with images to match western tastes and cultural norms. These pieces were traditionally Chinese in style and technique with aesthetics that were exciting to a western audience. By using traditional Chinese motifs adopted to reflect western history, religion, mythology, and custom, Guangzhou's export ceramics created a nuanced blend of Eastern and Western culture.
外销瓷在欧洲盛行的同时,19世纪中期,伴随着摄影术在欧洲比较广泛地应用后,许多摄影家利用它特有的纪实性,寻找创作上的新大陆。随着摄影术的传入,广州港也逐渐成为了摄影文化交流的前沿阵地。第一次鸦片战争刚刚结束的1844年,法国海关官员埃及尔(Jules Itier)便携带摄影器材来到中国,埃及尔住在十三行商馆区,他喜欢爬上商馆后座的屋顶,以更开阔的视野,自北向南进行拍摄。第二次鸦片战争后,西方摄影家获得了到中国境内任意旅行摄影的特权,也开始在广州、上海等地开设照相馆,或销售摄影耗材和照片。随着市场的扩大,一些中国人也开始尝试进入摄影领域,从画师转行的周森峰、张老秋、谢芬合资向外国士兵学习摄影技术后,分别在香港、广州、福州各自开设了照相馆。
During the mid-19th century, at the same time when export porcelain was in vogue in Europe, photography began to spread across the continent. Photographers began to take advantage of the medium's affinity for documentation as a new creative practice. When photography was introduced into Guangzhou, it too soon became a major medium of cultural exchange. Almost immediately after the end of the First Opium War, in 1844, a French customs official named Jules Itier began bringing photographic equipment into China. Itier lived in the 13th business district, and often liked to climb on to the roof of his building and take photos of the view to the south. After the Second Opium War, western photographers were granted the right to photograph within China. Beginning in Guangzhou and Shanghai, they began to open photo studios, and sell pictures and photographic supplies. As the market expanded, many Chinese citizens also began to enter the field of photography, ranging from the painter-turned-photographer Zhou Senfeng, to Zhang Laoqiu and Xie Fen who learned photography from working with soldiers from abroad. Many of them also went on to open studios in Hong Kong, Guangzhou, and Fuzhou.
现代的广州港随着城市的发展,区域不断扩大,沿珠江两岸至出海口依次分布着内港、黄埔、新沙、南沙港区,当中的历史港区、市区港区、新港区的客运、货运、娱乐、旅游、生活等功能也随之在变化。《漫游2000年后的广州港》一方面以广彩丰富的图像文化作为切入点,回溯广州港作为中西文化和商贸交流中心的历史,另一方面,我以摄影师的身份漫游在广州港历史港区、市区和自贸新区,纪录有着2000年历史的广州港在景观和功能上的转变,与早期中国摄影史中的广州港影像进行对比。
As the modern port of Guangzhou developed with the city, the region began to grow. Along both banks of the Pearl River, ports began to pop up –Huangpu, Xinsha, and Nansha– carrying freight, passengers, entertainment and tourists throughout the region and bringing change with them. On one hand, "Wandering Through Guangzhou After 2000 years" begins with color-rich images that look back on Guangzhou's history as an epicenter of commerce and cultural exchange. On the other hand, as the photographer wanders through Guangzhou's historic ports, downtown, and new trade zones, he is able to record the changes that have occurred, and compare the city to how it first appeared in China's early photographic history.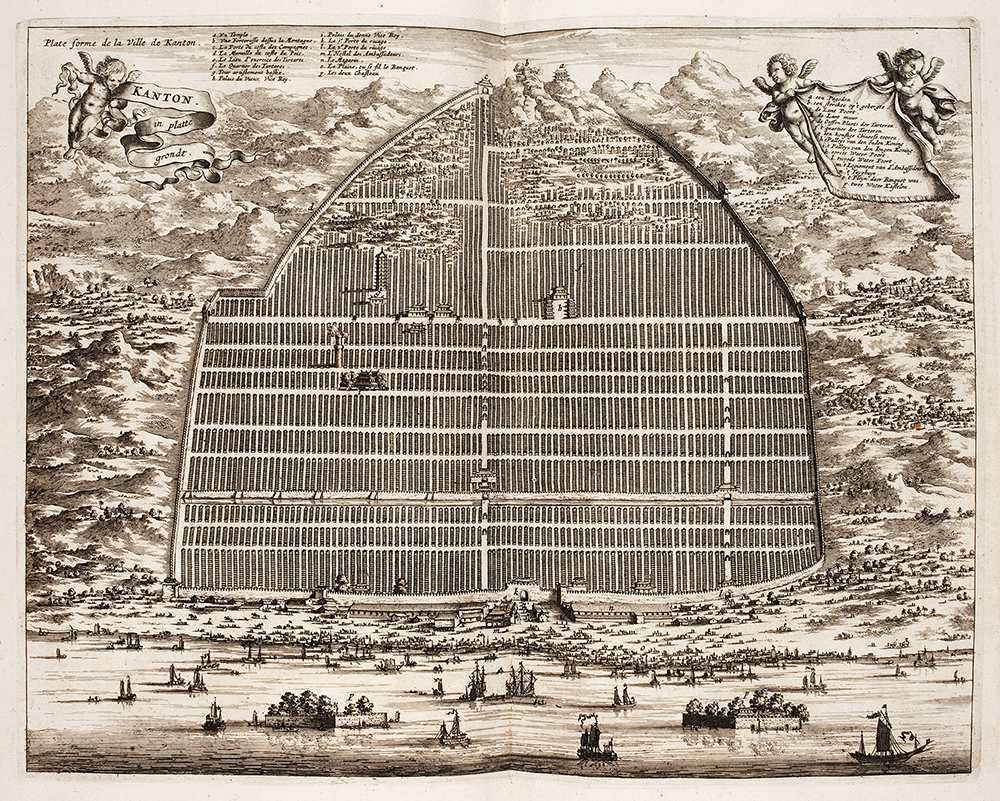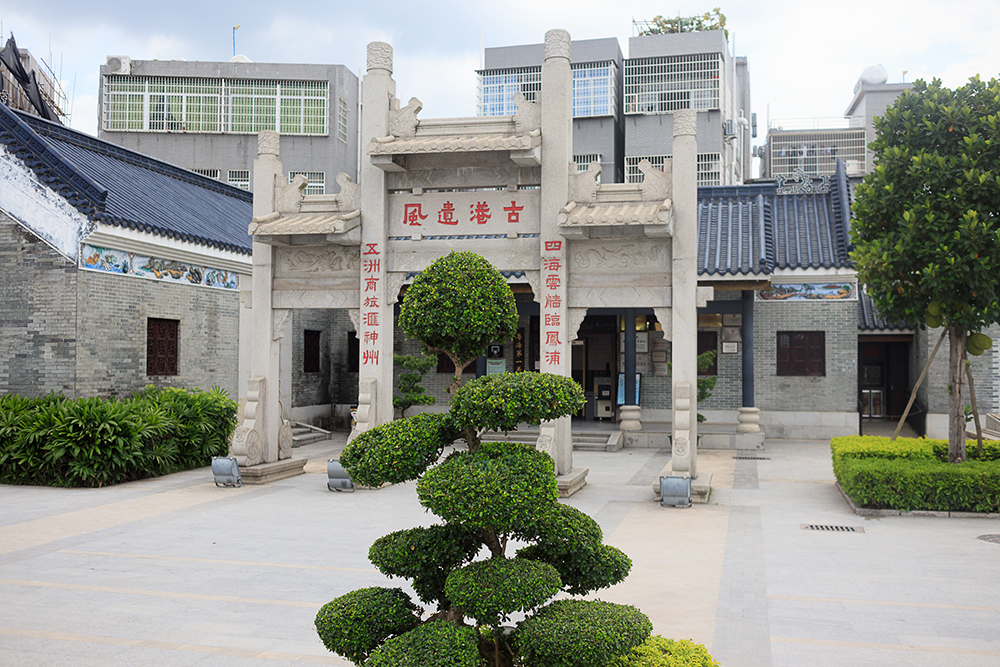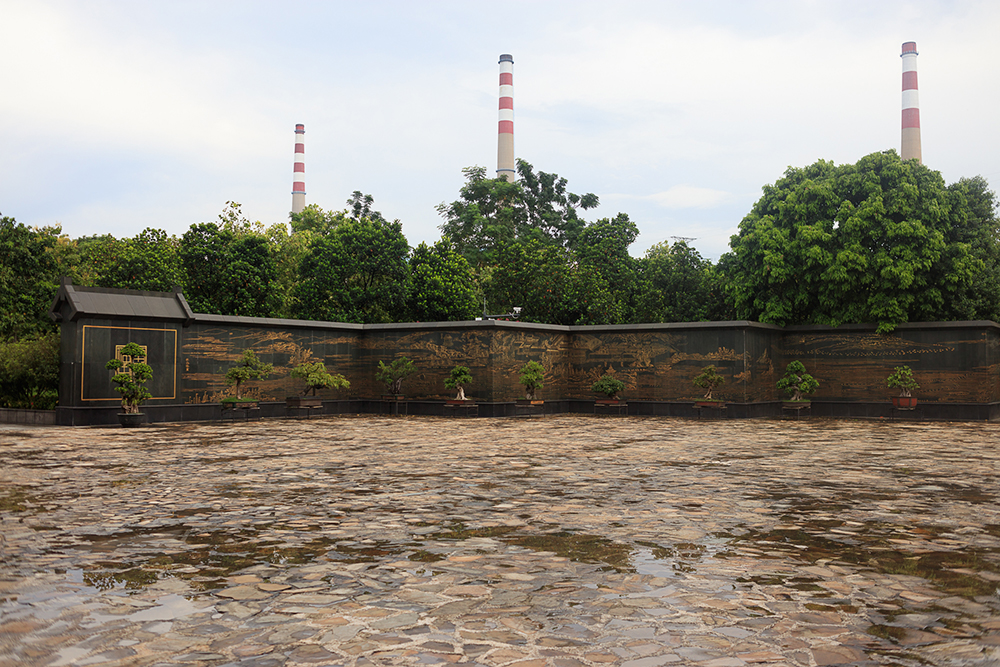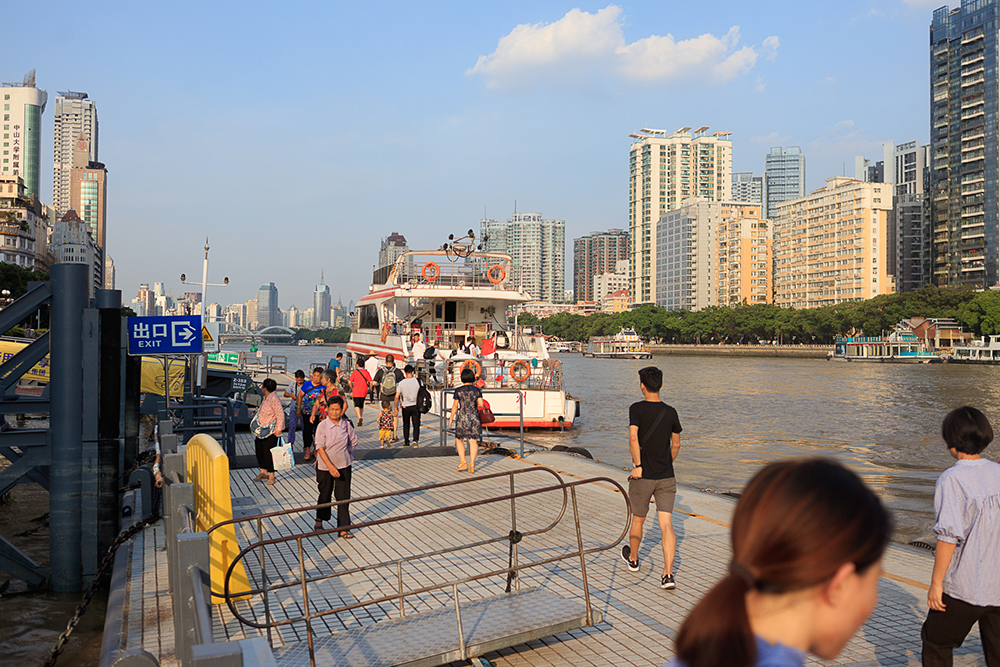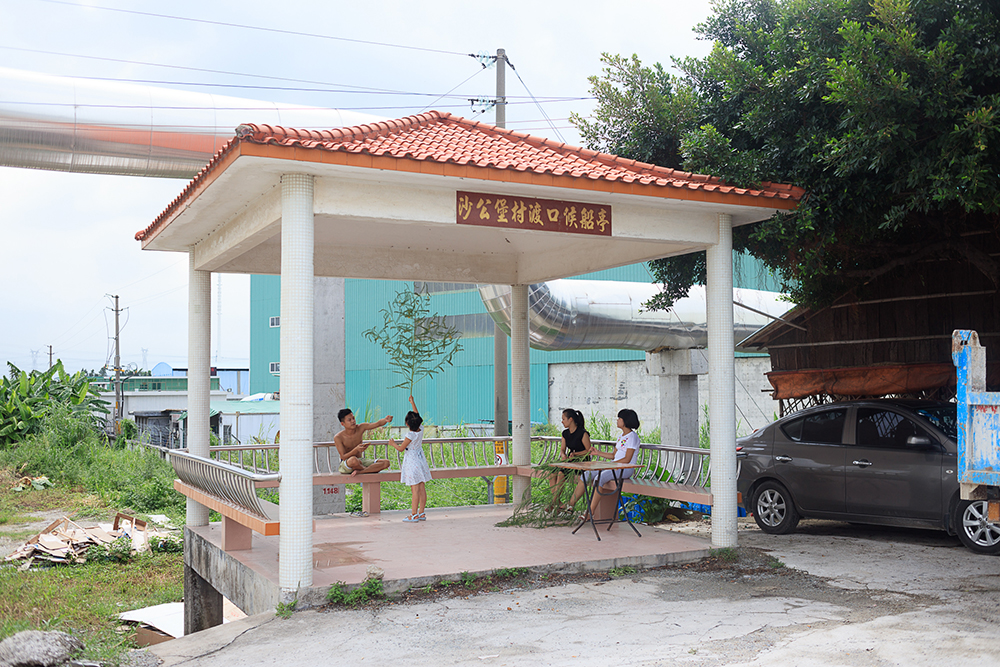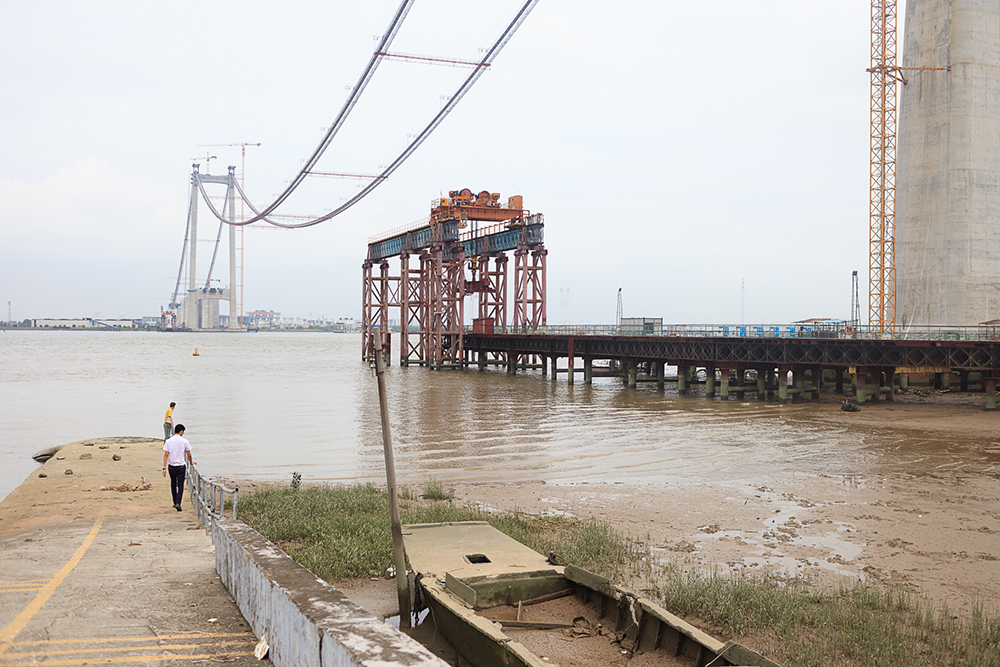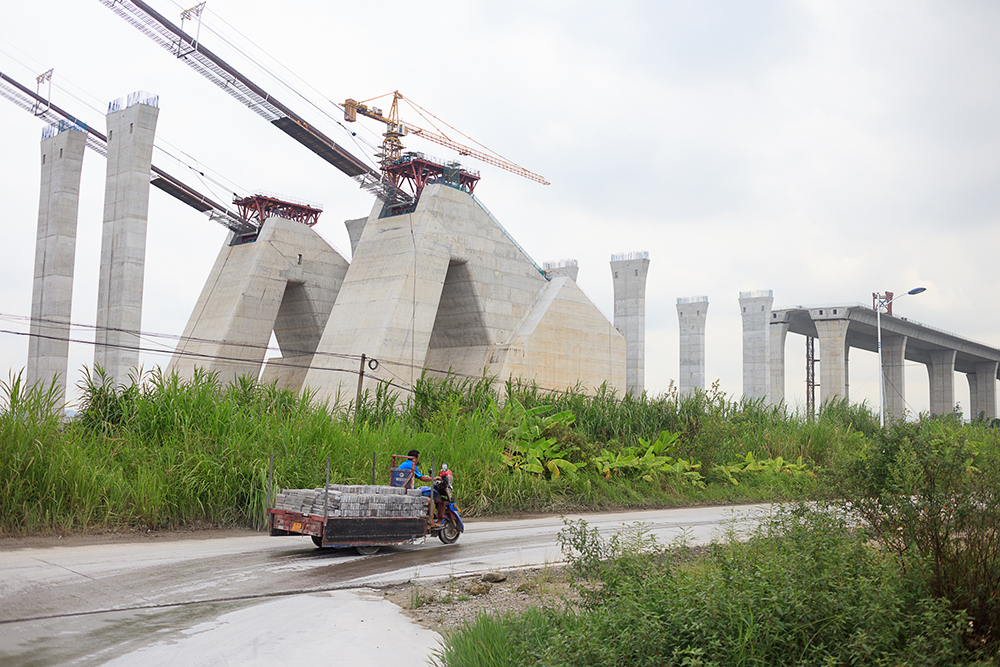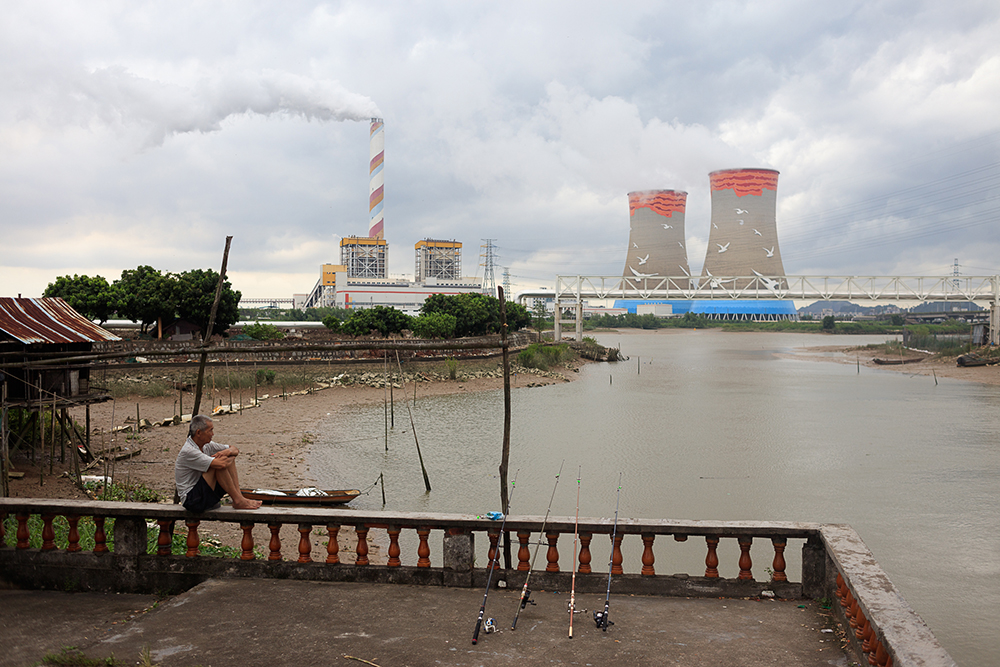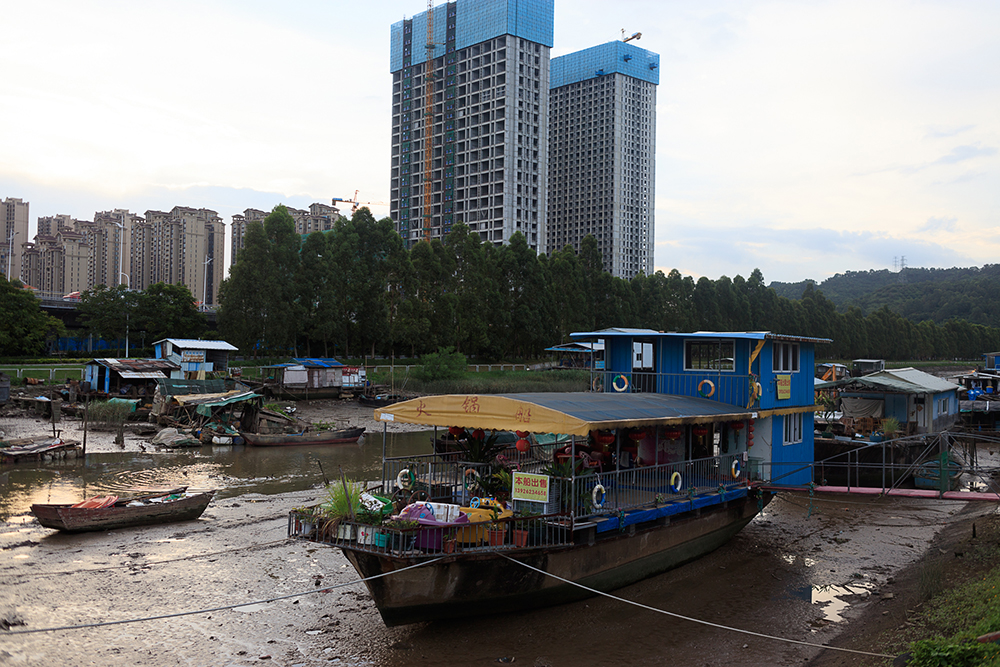 ---
《三个在广州做生意的外国人》 Three Foreigners Doing Business In Guangzhou
据《广州港史》记载,秦汉之际,番禺(广州古称)港市条件逐渐成熟。两汉时期,番禺已成为当时我国史书记载唯一的港市。广州是我国沿海城市中,最早形成的港市。它很早便有海外交通和对外贸易。据《魏晋南北朝史》引阿拉伯人古行记的记载说:"中国的商舶,从公元三世纪中叶,开始向西,从广州到达槟榔屿,四世纪到锡兰,五世纪到亚丁,终于在波斯及美索不达米亚独占商权。" 从三国至隋这一期间,在国际航运业中是一个发展时期,外国商船往返中国和南洋群岛的逐渐增多。广州是当时全国的外贸中心。
According to "The History of the Port of Guangzhou," Panyu (Guangzhou's original name) began to grow as a port city in the Qin and Han dynasties (before Christ). As Guangzhou developed, it became China's first real port city. During the Han dynasty, China's foreign trade reached new heights, and ships from Guangzhou, Xuwen, and Hepu sailed toward South Asia, traversing the Indian ocean to form what was to become the Maritime Silk Road. This became a crucial element in establishing communication and exchange between the civilizations of the East and the West. From the Three Kingdoms period to the Sui dynasty, the international shipping industry began to develop; it was during the period that Guangzhou became the epicenter of all of China's foreign trade. In the Tang dynasty, Guangzhou entered a new golden age. It blossomed into China's largest port, and was one of the largest ports in the world at the time. Over this period, porcelain, silk, paper, copper, iron, gold, and silver all flowed out of Guangzhou as exports.
广州有一千多年的海上贸易的历史,做生意已成为广州非常重要的底蕴。就像采访对象瓦夏说:"遇到广州人,通常他们不会问你做什么工作,而是问你做什么生意。" 除了每年两届广交会,会有大量外国人来到这里谈生意,平时来广州做贸易外国人也是络绎不绝。这里聚集了全国各地的货物,不同区域批发不同类型的商品,整个城市就像一个巨大的批发市场。不同民族的面孔,不同文化和食物的碰撞,都包容在广州的市井文化里,散发着有趣的生命力。
With more than 1000 years of trade history, business has become ingrained in Guangzhou's culture. As one of the subjects of these photographs, Vasily Kalinin, put it:"When you meet people in Guangzhou they don't ask you what you do, they ask you what kind of business you're involved in." Now, especially during the twice-yearly Canton Fair, business people from all around world make their way to Guangzhou to talk trade. Even normally during the year, there is a continuous stream of foreigners coming to Guangzhou for business. Goods from across the country are gathered together in Guangzhou, with every category of wholesale items piling up around the city as if it was one massive distribution center. A diverse array of faces, culture, and food all meet in Guangzhou, giving the city a unique flavor and a life of its own.
带着好奇,我希望可以从这个切口出发,去看看广州的外国人在做什么生意。三位拍摄对象来自俄罗斯、意大利和非洲刚果。他们在广州生活最长时间的也有二十年了。我希望从他们眼中看看广州这一方水土的"异国风情"。
The three subject of my photographs are Vasily Kalinin, a Russian international student, Mauro Castellan , an Italian shoe entrepreneur, and Felly, an African businessman with an import-export company. They have lived in Guangzhou many years. One of them even lived in Guangzhou about 20 years. Through their eyes, I hope to understand Guangzhou as it is to them. 视频截图 Screenshots: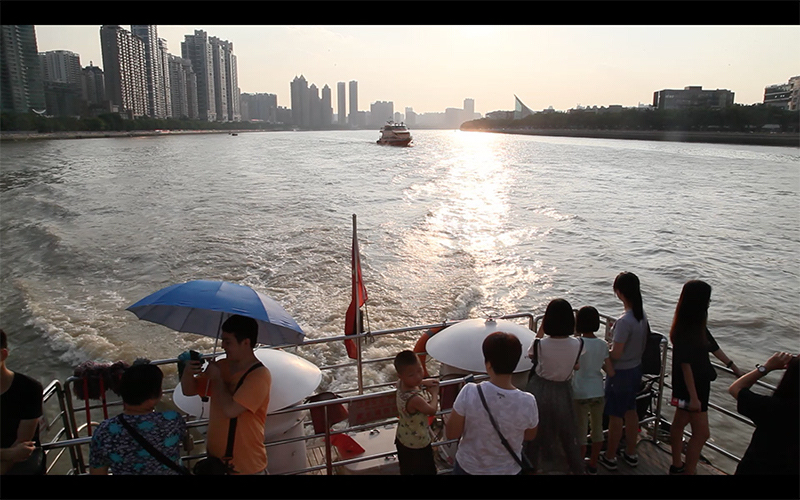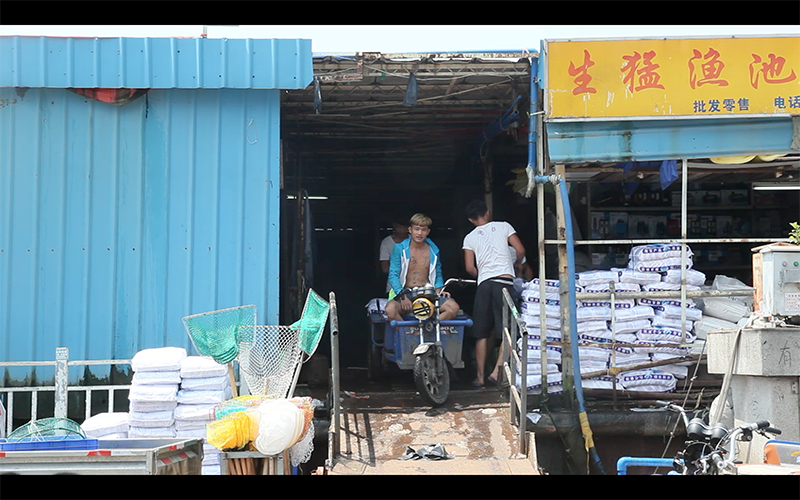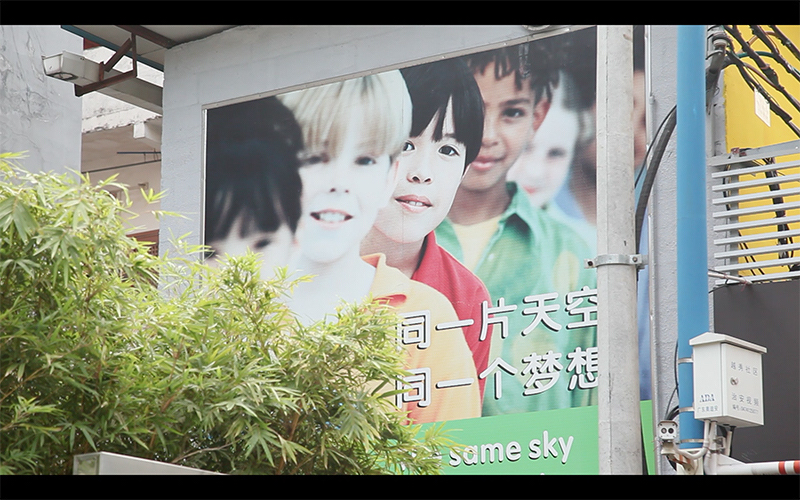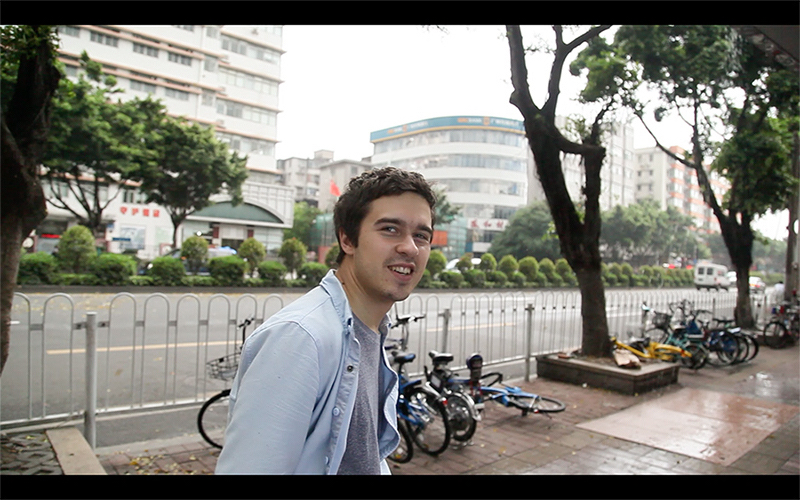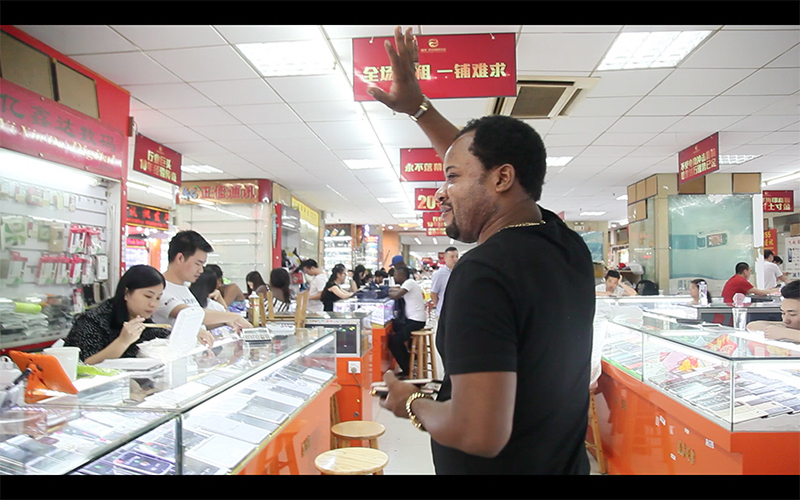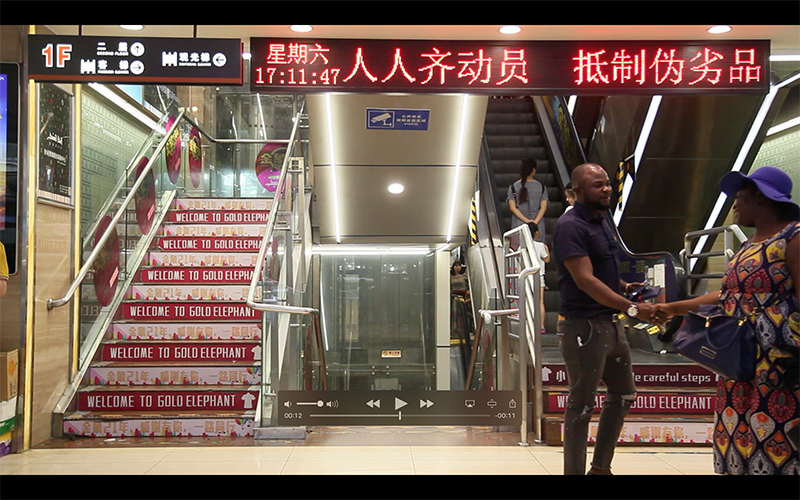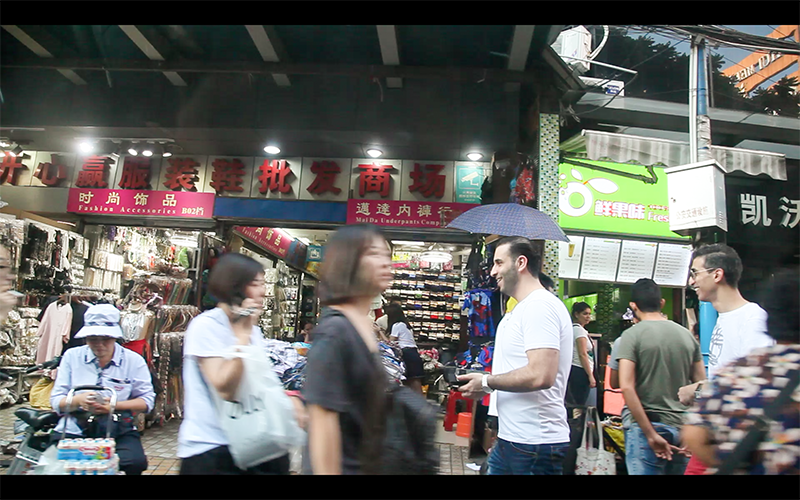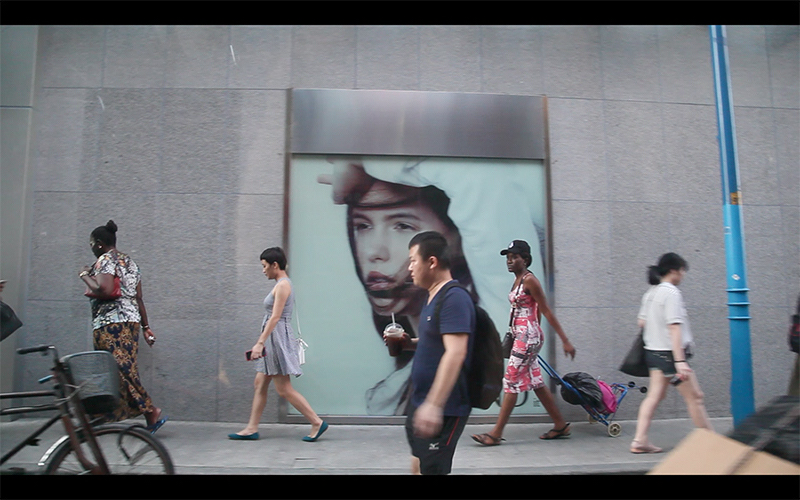 ---
广州港计划在中国港口博物馆展览现场 Installation in China Port Museum: